The battery charge on an electric golf cart is designed to go comfortably for about 12 miles. That is sufficient to play 36 holes of golf before you need to recharge! The golf cart manufacturers design the electrical system for this purpose. Changes effect the battery minutes usage...
The problems begin when we start making changes to the original design. The first thing we add is a rear passenger seat. Then we pack several more pounds in human weight and expect the same batteries to allow the golf cart to travel the same distance as before. ??? In addition to the added seats we then have a massive body lift installed so the massively large tires we install will have proper clearance. Placing bigger tires on the cart will inhale a tremendous amount of battery amperage every time you push the gas pedal to get her into motion. A tremendous amount of current is involved in this!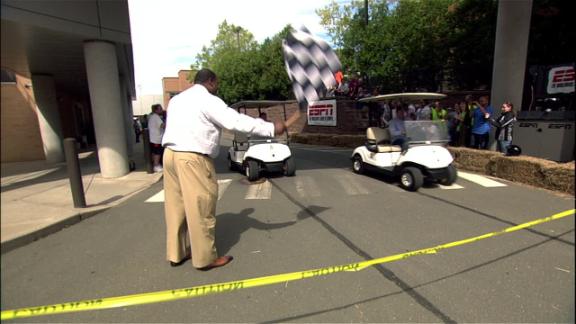 After we install a body lift on the cart, large wheels, we then place higher torque/speed motors on, or higher amp controllers in order to have a faster, stronger, quicker cart than our neighbors. After all our golf cart "just has go faster than our neighbors"! Bear in mind that all these things are going to require more battery power than a factory set up.
Each cart is different and will perform on an individual basis, however it is HIGHLY doubtful that you will be able to have the same drive time as the original manufacturer's set up after altering their design!  That's my opinion, share yours.
Let us know if we can be of help. Email me with any questions concerning your golf cart issues at: Michael@Bestbuygolfcarts.com or give us a call @ (904)284-5300 Check out our site: www.bestbuygolfcarts.com Be sure to sign up for our free newsletter for golf cart tips and free how to s. In addition there will be notifications of sale items and discount coupons to use at our store.
Best Buy Golf Carts is also on Face Book and Twitter . Please visit, join, like, & follow us when you're there. I also have an additional blog. My personal blog: MichaelRosenbarker.com See you next time. Until then, get out there and enjoy your golf cart. After all that's what you bought it for!
Michael Rosenbarker | Best Buy Golf Carts
About The Company:
Best Buy Golf Carts has been in business in the Jacksonville and Green Cove Springs area since 1976 and supplies golf cart parts and accessories throughout the United States. Specializing in resolving golf cart electrical issues, Best Buy Golf Carts also sells new and pre-owned golf carts, golf cart parts and accessories, and builds customized carts. They are the areas only authorized Trojan & Powertron battery dealer as well as an authorized Nivel dealer. Visit their large show room to view pre-owned factory type and custom golf carts as well as their stocked parts room with some of the lowest prices on golf cart parts and golf cart accessories.
Best Buy Golf Carts: your golf cart Super Store is pleased to have some of the lowest prices on golf cart parts around and takes pride in having some of the cheapest prices on golf cart accessories without compromising quality. Outlet store prices, oem type quality. Best Buy Golf Carts: North Florida's golf cart Super Store!   (904)284-5300   BestBuyGolfCarts.com